A painful sensation in any part of the head, ranging from sharp to dull, that may occur with other symptoms. A headache is pain or discomfort in the head or face area. Headache is pain in any region of the head. Headaches may occur on one or both sides of the head, be isolated to a certain location, radiate across the head from one point, or have a viselike quality.
A headache may appear as a sharp pain, a throbbing sensation or a dull ache. Headaches can develop gradually or suddenly, and may last from less than an hour to several days.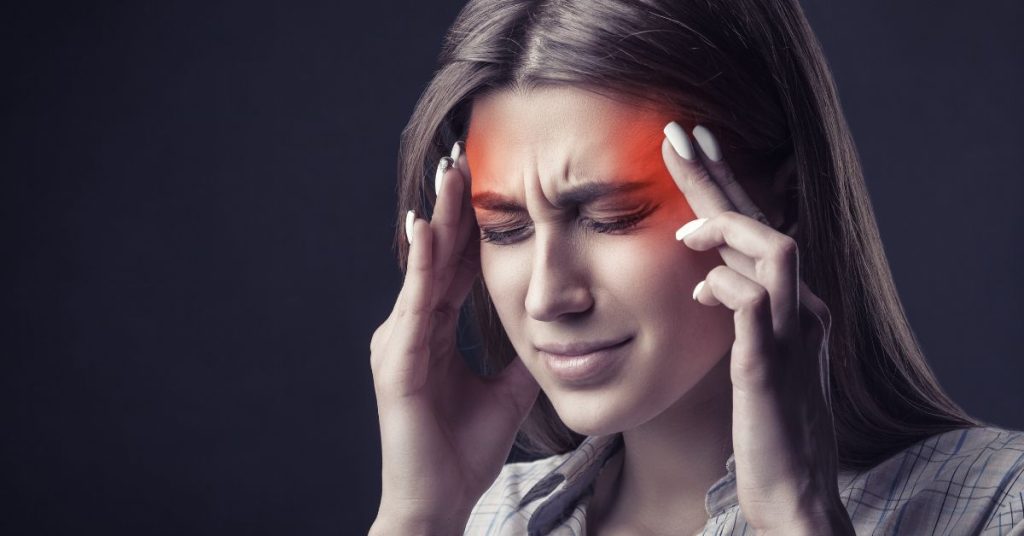 Types of headaches include migraine, tension, and cluster. Headaches can be primary or secondary. If it is secondary, it is caused by another condition. Avoiding headache triggers is the best prevention.
Hemicrania continua, a one-sided headache that can feel like a migraine
Primary stabbing headaches, which last for a few seconds and can occur several times throughout the day
Primary exertional headaches, caused by exercise
Chronic paroxysmal hemicranias, sharp, one-sided headaches that can cause tearing or a congested nose
Medication overuse headaches, which occur from overusing pain medications for headaches for at least three months.
Headache symptoms depend on the type of headache. The frequency of headaches and the intensity of the symptoms may vary, too. Typical headache symptoms include:
Slow onset of the headache
Head usually hurts on both sides
Pain is dull or feels like a band or vice around the head
Pain may involve the back part of the head or neck
Pain is mild to moderate, but not severe
Tension type headaches typically do not cause nausea, vomiting, or sensitivity to light (photophobia). The symptoms of a headache may look like other conditions or medical problems. Always see your doctor for a diagnosis.
Illness: This can include infections, colds, and fevers.
Stress: Other causes include neck or back strain due to poor posture.
Your environment, including secondhand tobacco smoke, strong smells from household chemicals or perfumes, allergens, and certain foods. Stress, pollution, noise, lighting, and weather changes are other possible triggers.
Genetics: Headaches, especially migraine headaches, tend to run in families.
Your doctor will want to do a comprehensive medical evaluation and diagnostic testing. He or she will also ask about your medical history, and do physical exam and certain tests. If your doctor suspects migraine or tension-type headaches and the neurological exam is normal, no further testing may be needed. However, if it is not a primary type headache, then other tests may be done to find the cause.
Tests used to find the cause of a headache may include:
Blood tests.Various blood chemistry and other lab tests may be run to check for underlying conditions.
Sinus x-rays. An imaging procedure done to evaluate for congestion or other problems that may be corrected.
Magnetic resonance imaging (MRI). A test that uses a combination of large magnets, radiofrequencies, and a computer to produce detailed images of organs and structures within the body.
CT Scan.An imaging test that uses X-rays and computer technology to produce horizontal, or axial, images (often called slices) of the body. A CT scan shows detailed images of any part of the body, including the bones, muscles, fat, and organs. CT scans are more detailed than general X-rays.
Headache treatment is aimed at relieving symptoms and preventing additional attacks. If you know what triggers your migraines, avoiding those triggers and learning how to manage them can help prevent migraines or lessen the pain. Treatment might include:
Rest in a quiet, dark room
Hot or cold compresses to your head or neck
Massage and small amounts of caffeine
Prescription medications including triptans
Preventive medications such as metoprolol (Lopressor)
When headache triggers are known, avoiding the triggers can prevent a headache. Reducing stress can minimize or prevent headaches caused by stress. Migraine and cluster headaches may be prevented by taking a daily preventive medicine.